The Source Magazine Presents the MLK Acknowledgement Award to Nas & The Game
In celebration of the birthday of civil rights leader Dr. Martin Luther King Jr. and the 25th Anniversary of their publication, The Source Magazine honors and acknowledges the work of members from the Hip-Hop community whose deeds and actions have demonstrated courage, compassion, and the will to serve others.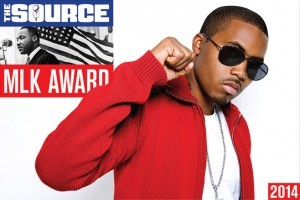 This year, Nas, along with The Game, were honored for their acts of philanthropy and charity throughout their serving communities. Nas was specifically honored for his call to action last year in the case of a single and unemployed father of eight, Stanley Young. Young, a recent widow and laid off construction member in Washington DC, came to the attention of the MC when his manager was visiting the city and saw a news segment of the man pleading for assistance after losing his home in a fire started by a nearby facility.
Nas, who was on tour in Japan was sent an email with Young's story and immediately reacted, calling for a call to action to raise money for the man and his family. Within days, Nas used his social media and celebrity platforms to garner attention and raise over $40,000 to assist the single father and his family through the online donation site, Crowdtilt. Nas also donated $10,000 to the Young Family and released the following statement, "As a single father I couldn't help but feel for Stanley. He has my [utmost] respect as a man.
It takes a real one to do whatever it takes to help his family. I want to help the Young family get a fresh start on life and I want the world to know that they can help make a difference if they stick together. We are learning an incredible lesson and Stanley is the teacher of that lesson. I cannot wait to meet them in person." Humbling himself as a man and a human being, Nas stripped his celebrity in order to prove to the public and the youth especially, that we all have a duty to impact the lives of one another and take care of our communities.
BY: LEILA ORTIZ