Never Stop. Never Settle. Hennessy & Nas Celebrate Super Bowl XLVIII in NYC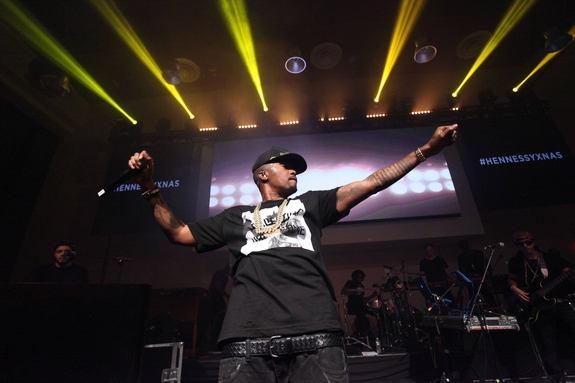 Although no home teams were actually playing in Sunday's big game at MetLife Stadium, the city was rocked when New York native and hip hop legend Nas hosted the Hennessy "Never stop. Never settle." Gala.
Taking place after the Super Bowl, the event celebrated the success of their three year campaign that has featured stars like Manny Pacquiáo in the past and most recently named Nas as their Wild Rabbit Spokesperson and Brand Ambassador in 2013. Held at Spring Studios in New York City, Jay Z and Beyonce, Tyson Beckford, Estelle, Luke James, and more were seen on the red carpet and partying throughout the night. Guests danced and chilled out to the sounds of DJ White Shadow and Mark Ronson, while being served Nas' signature drink, The Hennessy Big Apple, before being treated to a musical performance from Kelly Rowland and surprise guest, Fantasia.
At the end of the evening, Nas took the stage and performed a variety of classics, including "NY State of Mind" from his debut album, Illmatic, which approaches it 20 year anniversary this year. Nas surprised and stunned the audience when he brought out long time friend and collaborator rapper AZ to relive some of their classic moments as the crowd, screaming with excitement, went wild.
BY: LEILA ORTIZ