Boston's Mayor Marty Walsh Welcomes Nas to the City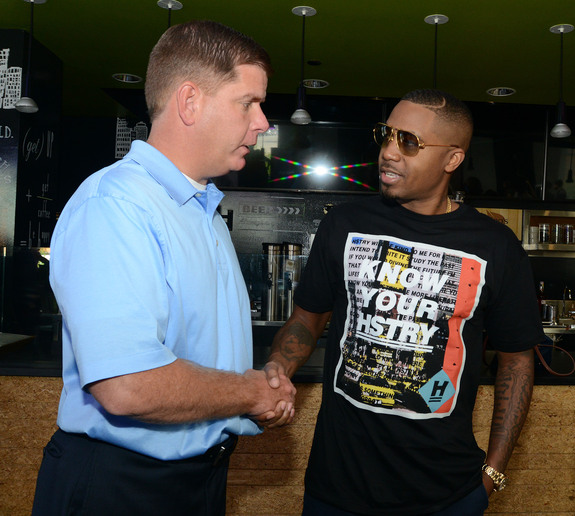 Last Sunday, the city of Boston proudly welcomed and celebrated the arrival of Nas for his scheduled performance at the famous Boston Calling Music Festival. Nas, who has been busy celebrating the 20th anniversary of his debut album, Illmatic, gave an outstanding performance Sunday night during the Fall installment of the music festival. Prior to the performance, the New York native took time out of his scheduled rehearsal to support Boston's Mayor Marty Walsh in his initiative promoting the interests of science and technology to young girls, ages 11 - 17 year old. Walsh, along with the Mayor's Office of New Urban Mechanics, the Mayor's Office of Women's Advancement, and the MIT Media Lab was hosting their annual "Girls Make the City" event. Held at District Hall in Boston's Innovation District, the event allowed 25 young girls from the community the opportunity to learn Scratch, an introductory programming language, facilitated by experts at the MIT Media Lab's Lifelong Kindergarten group.
The event focused on the theme, "I Can Be," taking inspiration from Nas' 2002 song, "I Can", the second single from the Nas album, God's Son. Nas, who has been adamant in the call for women in technology, made a surprise visit to the event to share his experiences and stories with the young ladies while urging them to follow their dreams. Speaking on the necessity of the cause and the success of the event, Mayor Walsh stated "My administration has a particular interest in proactively engaging and mentoring youth," said Mayor Martin J. Walsh. "Today, we introduced 25 young women to role models in computer science, and we hope this sparks a lifelong interest."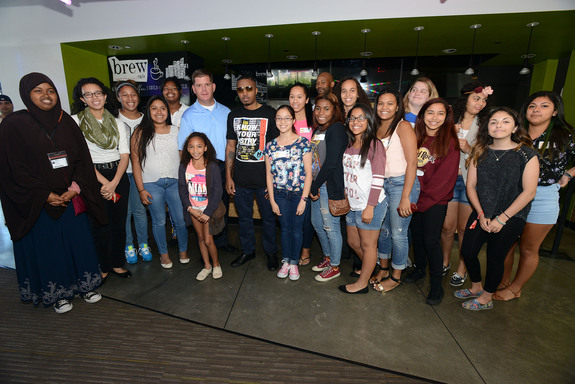 During the visit the young ladies had the opportunity to discuss their ambitions with Mayor Walsh and Nas as well as pose questions, and present their technology projects in front of peers and role models.
BY: LEILA ORTIZ