Special Nas: Time Is Illmatic One-Night-Only National Screenings on October 2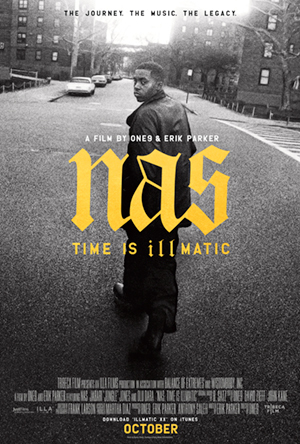 The documentary on legendary MC Nas' making of the 1994 landmark debut album 'Illmatic', Nas: Time Is Illmatic, will hit movie theaters across America on October 2, 2014 for a one-night-only special showing of the film. Audiences nationwide will have the rare opportunity to experience the story behind one of hip-hop's most influential albums of all-time on the big screen.
Nas: Time Is Illmatic will become available on demand, iTunes, and other VOD providers starting Friday, October 3 and the film will first release theatrically in New York and Los Angeles starting on October 1 distributed by Tribeca Film. Twenty years after the release of Nas's groundbreaking debut album 'Illmatic,' Nas: Time Is Illmatic takes us into the heart of his creative process. Returning to his childhood home in Queensbridge, Nas shares stories of his upbringing, his influences — from the music of his jazz musician father Olu Dara to the burgeoning hip-hop scene in New York City — and the obstacles he faced before his major label signing at age 19. Featuring interviews with his 'Illmatic' producers (Large Professor, Pete Rock, Q-Tip, L.E.S., and DJ Premier) and musical peers (including Pharrell Williams and Alicia Keys), Nas: Time Is Illmatic is a thrilling account of Nas' evolution from a young street poet to a visionary MC.
The documentary is directed by multimedia artist, One9, written by Erik Parker, and produced by One9, Parker, and Anthony Saleh. The film was supported by The Ford Foundation's JustFilms, Tribeca Film Institute's Tribeca All Access program, and Hennessy V.S. to help bring Nas' inspiring story of tireless pursuit of excellence to audiences nationwide. Tickets are now on sale for all special screenings at the theaters websites or via the Buy Ticket links.
IN THEATRES
OPENS WEDNESDAY, OCTOBER 1
New York, NY (AMC Empire 25)
Los Angeles, CA (AMC Burbank Town Center 8)
ONE NIGHT ONLY! THURSDAY, OCTOBER 2
Atlanta, GA (AMC Phipps Plaza, AMC Southlake 24)
Austin, TX (Alamo Drafthouse South Lamar)
Baltimore, MD (Charles Theatre, AMC Owings Mills 17)
Charlotte, NC (AMC Carolina Pavilion 22, AMC Concord Mills 24)
Chicago, IL (AMC Loews Crestwood 8, Music Box Theatre)
Dallas, TX (Angelika Film Center)
Denver, CO (AMC Highlands Ranch 24, Sie Film Center)
Fairfax, VA (Angelika Film Center Mosaic)
Fort Worth, TX (AMC Grapevine 30)
Houston, TX (Sundance Cinemas, AMC Studio 30, Alamo Drafthouse Mason Park, Alamo Drafthouse Vintage Park)
Jacksonville, FL (AMC Orange Park 24)
Miami, FL (O Cinema Wynwood, AMC Aventura 24)
Milwaukee, WI (AMC Mayfair Mall 18)
Minneapolis, MN (Minneapolis Underground Film Festival)
Nashville, TN (Belcourt Theatre)
Oakland, CA (The New Parkway Theater)
Orlando, CA (AMC Altamonte Mall 18)
Phoenix, AZ (AMC Arrowhead 14)
Plano, TX (Angelika Film Center)
Portland, OR (Cinema 21)
Sacramento, CA (Tower Theatre)
San Antonio, TX (AMC Rivercenter 11)
San Diego, CA (Reading Cinemas Gaslamp 15, Reading Cinemas Town Square 14)
San Francisco, CA (Roxie Theatre)
Seattle, WA (Sundance Cinemas, AMC Pacific Place 11)
St. Louis, MO (AMC West Olive 16)
Toronto, ON (TIFF Bell Lightbox - on sale 10/26)
Washington, DC (Angelika Pop-Up at Union Market)
Winston-Salem, NC (a/perture cinema)
Nas will also be on tour in North America throughout October. Each show on the tour will be a special event where the film will screen followed by Nas performing 'Illmatic' start to finish. Cities and available tickets can be found here: www.nasirjones.com/events
Nas recently released a special 20th Anniversary edition of the album, titled Illmatic XX. PRESS HERE to download it now.
Follow #TimeIsIllmatic across all social platforms to hear from the filmmakers and Nas himself on the making of Nas: Time is Illmatic and the community that's been built around the album. Join fans in remembering their experience of listening to 'Illmatic' and the effect of Nas' voice on generations of hip hop fans.
Learn more about attending a screening or purchasing the film on demand at Tribecafilm.org/Nas. Follow the film on Facebook, Twitter and Instagram.
BY: LEILA ORTIZ