StarFes 14: Nas to Headline Japan Music Festival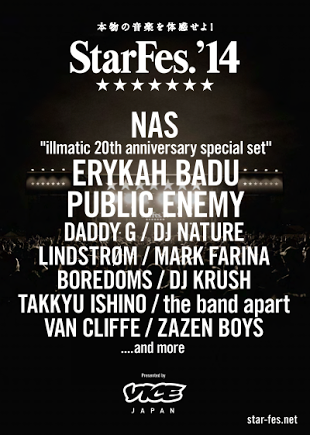 Vice Japan's StarFes Urban Music Festival returns this year with an explosive lineup, bringing together some of hip hop's biggest names and music heavyweights for an unbelievable one-day experience. Back again for it's third year, the festival, which is usually scheduled in March, has been moved to September 20th. Also changing this year is the venue, from Kawasaki to Chiba's Makuhari in an effort to offer fans a greater festival experience. This year's festival promises just that; a greater experience with an impressive lineup featuring hip hop legend Nas, as the headliner. Nas, who is celebrating 20 years of Illmatic, will be performing his debut album, in full, for a special anniversary tribute. Other artists scheduled to perform at the festival include hip hop legends Public Enemy, singer Erykah Badu, Osaka-based rock band Boredoms, Daddy G, DJ Nature, Lindstrom, Mark Farina, DJ Krush and more.
Tickets for this event are on sale now.
BY: LEILA ORTIZ