Nas Brings Out Lauryn Hill At Summer Jam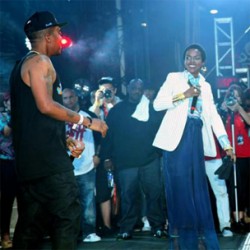 During his performance at Hot 97's Summer Jam 2012 last night, Nas brought Lauryn Hill as a surprise guest.
After running through his single "The Don" off his upcoming album Life is Good, Ms. Hill emerged from the wings to the tune of Fugees' "Ready or Not," singing the chorus and rapping the verses from the song. She then segued into "Lost Ones," and then Esco joined the elusive performer for "If I Ruled the World."
To read the whole story go to hiphopdx.com.